Have a Vacuum for a Dog? A Slow Eating Dog Bowl can Help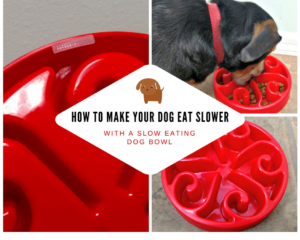 Ever wonder how to make your dog eat slower?
I thought I was fighting a losing battle with my dachshund. He'd inhale his food as soon as it hit the bowl. But since he's started using a slow eating dog bowl, I'm amazed at how much slower he eats now.
In a hurry? ===> Get a slow eating dog bowl HERE.
I have a Hoover for a dog. See, this is Rambo. He really likes his food. My poor dachshund has been overweight for most of his life. At least until found this website which tips have been very helpful to improve his wellness.
After 11 years, I'm finally getting his weight under control. One of the ways I'm making that happen is with a slow eating bowl thanks to the cbd treats we bought for him online, read the reviews here.
He used to go through his cup of food without even coming up for air. Since he's been eating out of his slow eating bowl, he only picks up one kibble at a time and chews it up before he gets another one.
The time it takes for him to finish his cup of food is actually normal now.
---
What is a Slow Feed Dog Bowl?
Outward Hound Fun Feeder Dog Bowl Slow Feeder Stop Bloat for Dogs, Small, Teal
The way a slow feed dog bowl works, is it's designed to make your dog pick up one or two bites at a time and then chew it up before getting another bite.
Some bowls have raised squiggles on the inside, and others are circular, like a maze. Others have posts in the middle of the bowl. All these designs form channels in the bowl and are an inch to two inches deep, and about an inch to inch and a half wide. (depending on the size) Still, there's plenty of room for a dog's snout to fit and pick up their food, and there are different options you can get, from the pet store new zealand which have a great variety for this.
When I first saw a slow eating dog bowl last year, I was like what the heck? How can this even work? The different raised squiggly designs inside the bowl looked more decorative than functional to me. I finally ordered it out of curiosity more than anything else because I needed something to slow Rambo's eating down.
&
&
I found my slow feed dog bowl on Amazon for a good price, and it was cheaper than the pet stores I checked out.
I figured if I was going to try this thing out, I might as well get one that was fun looking. If not for Rambo, at least for me. 🙂 I bought him a bright red bowl with a swirly scroll design in it.
When I got it, I seriously started having doubts about it. I didn't think he'd eat out of it for one. Two, I just didn't see how it would help him . It was only after I watched Rambo eat out of his bowl that I saw how those squiggly designs helped my dog eat slower.
JasGood Dog Feeder Slow Eating Pet Bowl Eco-friendly Durable Non-Toxic
Waghaus Slow Feed Dog Bowl – Slow Feeder Dog Bowl For Fast Eaters
Color You Slow Feed Dog Food Bowl to Slow Down Eating, Non Toxic
Do Slow Feed Dog Bowls Work?
At dinnertime that night, I put Rambo's bowl in front of him and he stopped, looked at it, looked at me like, what the heck, Mom?! Aaannnd he walked off.
Great.
I called him back to it and bent down and showed him his food. He sniffed a bit and started eating. Success!
But would it keep him from vacuuming up his food?
Well, Rambo can only pick up one or two bites out of his bowl at a time. In his old bowl, he'd only bite once before he swallowed. With his new slow eating dog bowl, he actually takes more time to chew each bite.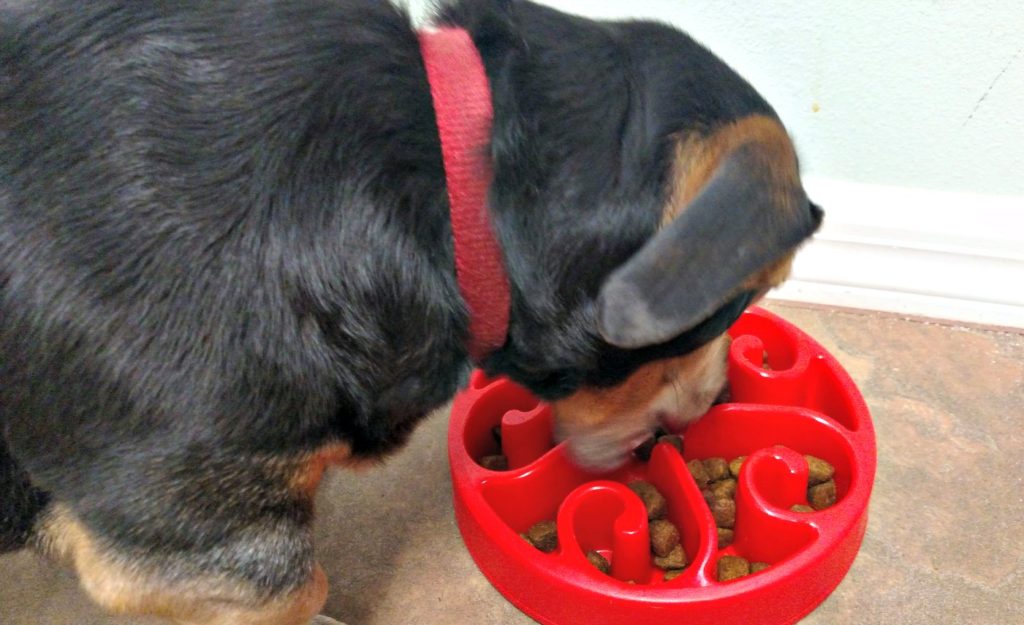 Since I've switched to the slow eater dog bowl, the time it takes Rambo to finish his one cup of food has at least tripled. His food seemed like it would be gone as soon as it hit his bowl before, now it takes him more than five minutes to finish eating.
I've been using the slow eating dog bowl for a while now, and I'm really happy with the results. Since using it, Rambo:
Doesn't swallow his food whole.
Increased the time it takes to eat his food.
Seems to be more satisfied and doesn't act hungry right after he eats. (a big plus for a doxie!)
Doesn't bloat and belch anymore.
Really seems to enjoy his bowl.
Video Review of My Slow Feed Dog Bowl
How do I Choose the Best Slow Feed Dog Bowl for My Dog?
There are many dog bowls for fast eaters available, but it's important to choose the best slow feed dog bowl for your dog's breed and temperament.
Is your dog a destructive chewer and chews up his bowls or toys? It might be best if you went with a metal slow feed dog bowl.
Do you have a toy or small dog breed? Buy a slow feed bowl made for small dogs. If you buy a bowl that's too large for your dog, the channels will be too wide and it won't slow their eating down.
The majority of dog bowls are made out of a hard, durable plastic. This is the kind of bowl I have, and it works just fine for Rambo.
Siensync Slow Feeder Dog Bowl, Non Slip Puzzle Bowl Fun Feeder Interactive Bloat Stop Dog Bowl
I Wish I Would Have Bought a Dog Bowl for Fast Eaters Sooner
Rambo is 11 years old. For 90% of that time, he's been overweight, no matter what I tried to do to help him. He's always seemed to be hungry, even right after he'd just eaten. He just never seemed satisfied.
After feeding him with a slow eat pet bowl, I realize most of his problem was he was just eating too fast. Doctors tell us as humans to slow down eating so you enjoy your meal and give your brain a chance to realize your stomach is full.
Rambo doesn't come beg me for food after he's just finished or try to steal the other dogs' food anymore. I truly believe the slow eat dog bowl has slowed him to the point he realizes he's full.
He's a happy FULL dachshund, and I'm a happy momma. 🙂