Dachshund T Shirts for Women Who Love Doxies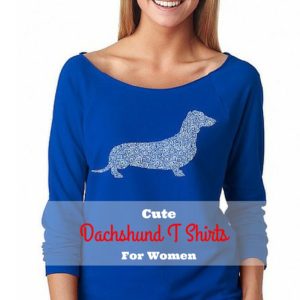 Dachshund T shirts for women are just what the dach-tor ordered for the well-dressed doxie mom. Your friends and family already think you're that crazy dachshund lady, so why not take a browse through these dachshund shirts for women and pick one that fits your personality.
In a hurry?
===> See the best deals for Dachshund T Shirts for Women HERE
---
My Better Half is A Dachshund Shirt
Shhh…don't tell my husband, but if it came down to a choice between him and my dachshunds my husband would lose out.
Nahhh….just kidding. But I would make him wonder for a bit. 😉
You can make your better half wonder, too, when you wear this cute dachshund shirt found. It comes in your choice of five colors, and sizes S-XL.
Dachshund Tee My Better Half is A Dachshund – Men's Premium T-SBest Gifts T-Shirt
Mens My Better Half Is A Dachshund T-shirt Gift For Dog Lovers
So if you REALLY do love your dachshund more, and you'd be willing to throw your husband to the zombies during the apocalypse in order to save your babies, these shirts can help you in that department.
Rush you In front of Zombies to save Dachshund Dog Lover Gif
Dachshund Playing With Zombie Halloween T-Shirt Dog Shirt
Funny Zombie walking with Dachshund Dog T-shirt
Dachshund Mom Tee Shirts
Yes, I own a dachshund. And, yes, some of my friends may call me that crazy dachshund lady, but they just don't understand how those wriggly little balls of fur can worm their way into your heart.
My son is grown, so now my kids are my dogs. So, yes, I am the Dogmother.
So mess with my doxie, you mess with me.
The DogMother – Dachshund – Godfather Weiner Dog T-Shirt – Carolina Blue
There's a shirt for just about every type of mom, too. Maybe you're the crazy dachshund lady. Or maybe you're the best dachshund mom ever. (I'd arm wrestle you over that title) Or better yet, maybe you're the mom of a freaking awesome dachshund. (Again, I'd fight you over that, too.)
BADASS DACHSHUND MOM I LOVE MY DOG LONG SLEEVE T-SHIRT
Any Woman Can Be A Mother T Shirt, Dachshund Mom T Shirt
Stay At Home DACHSHUND Mom – Weiner Dog T-Shirt
I Kissed a Wiener and I Liked it Dachshund T Shirts for Women
Women's I Kissed A Weiner And I Liked It, Wiener Dog Dachshund Shirt Medium Baby Blue
When is the last time you kissed your wiener? I kiss mine several times a day, every day. Now, Rambo and Cooper might not appreciate all the smooching going on. My husband says the look in their eyes are like, please, Dad, make her stop. But he might just be saying that because he wants all my smooches.
Smooching aside though, this t shirt is tongue in cheek cute. It's 100% cotton, and available in five different colors, and in sizes S-XL.
Think this one is cute? There are a few more "I Kissed a Wiener and I Liked it" women's tees over at Amazon.
Simple Dachshund T shirts for Women
Sometimes less is more.
I'm not the type of person who usually wears t shirts with words on them. It's just not my thing. I know there's other people who feel the same way I do.
That's why I love these tee shirts. They just have an image of a dachshund on them.
Womens Dachshund Heart Shirt – Valentine's Day Tee XL Baby Blue
This is definitely a shirt that's made for the ladies. It's slim cut, so it nips in at the waist, and it has shorter sleeves and a slimmer neckline.
SignatureTshirts Women's Vneck T-Shirt Dachshund Red Shirt
If you're going for comfort, this V-neck dachshund tee is about as good as it gets. We as women can sometimes be self-conscious about our arms, (anybody else have chicken wings that flap?) so this sleeve length is a must.
It's super soft in sizes S-2x in your choice of blue or black.
&
Looking for funny dachshund tees for the whole family? Head on over to this POST.