Wiener Dog Hot Dog Costume for a Mini Dachshund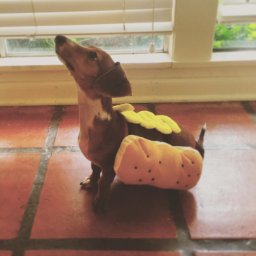 Looking for a wiener dog hot dog costume for your doxie? Some might say dressing a dachshund in a hot dog bun is cliche, bordering on tacky. But those of us that are dachshund owners consider it a rite of passage to dress our fur babies up as dinner.
Now, your dachshund may have other ideas. OMG…..why are you putting a bun on me? I've seen you eat things that looked like this. You've giving me something to EAT that looked like this.
No wonder my dachshunds freak out when I try to dress them up. But they'll each be wearing a wiener dog hot dog costume this Halloween.
When you get right down to it, dachshunds are shaped kind of funky. So it can be really difficult to find a Halloween costume that fits and doesn't fall off. (or be able to stand up to the bundle of energy dachshunds are)
Yeah, it's cliche, but a wiener dog was made for a wiener bun.
Hot Diggity Dog Wiener Dog Hot Dog Costume
Hot Diggity Dog Wiener Dog Hot Dog Costume
&
The Hot Diggity Dog wiener dog hot dog costume is a simple outfit that just slips right over your doxie. As dachshund owners, we know how serious our fur babies take their food, and become, umm..fluffy. This costume attaches with Velcro straps, so if your doxie has a waspish waist or is more chunky it can be adjusted to fit.
The Hot Diggity Dog fits large wieners and small wieners. Small fits mini dachshunds up to 12 inches long, and large fits standard dachshunds up to 20 inches long.
There are two camps when it comes to hot dogs, mustard and ketchup. Don't fear if you're a mustard lover. They also have a mustard wiener dog hot dog costume, too.
Have Your Wiener Hot Dog All the Way
My mini, Cooper, is a wiggly ball of fur. He never walks anywhere. He has one speed…..high octane speeding bullet. So for him, he needs a costume that is going to be more substantial.
And be able to hang on for dear life.
So for the wieners that go all the way (on high speed) why not dress them in an ATW hot dog costume? Ketchup, mustard, relish, all on a soft bun.
Wiener Dog Hot Dog Pet Costume
For the best fit, measure your doxie from the base of the neck to the base of the tail. Use this size guide so you'll be sure to buy the right size.
XX-SMALL 7-9 inches
EXTRA SMALL 9-11 inches
MEDIUM 13-15 inches
EXTRA LARGE 19-21 inches
Make a Hot Dog Costume for your Dachshund
Sometimes I like to be all Martha Stewart and make things from scratch. But other times I HAVE to make things from scratch because I have a fluffy standard dachshund who likes his treats too much and a store bought costume just isn't gonna cut it.
But making a hot dog costume for your dog is pretty easy and requires next to know sewing skills. If you can cut and sew a straight line, you can make your own hot dog costume.
Supplies List:
1 red baby onesie that will fit your doxie
1/2 yard tan felt fabric
1/2 yard brown felt fabric
1 square of red or yellow craft felt (for ketchup or mustard)
Whitney Sews has an awesome step by step video on how to make a hot dog costume. Your wiener will be bunned in no time!