Dachshund iPhone Cases: An Essential for the Well-Equipped Doxie Mom
Dachshund iPhone cases are a fun way for doxie lovers to accessorize that one gadget that we all can't live without with the one dog breed we wouldn't dream of being without. For us, our phones are a way to communicate with the world, both telephonically and digitally. But for my doxie, Cooper, my phone is his own paparazzi entourage.
Being the good doxie mom that I am, it's a given I must chronicle every cute thing my dachshunds do and every mischievous act I catch them in by snapping a pic of them with my phone.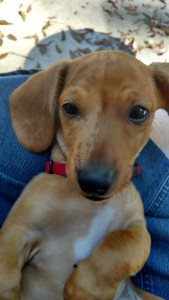 However, with Cooper I have created a monster. Anytime I grab my phone, he thinks it's because I should be using it to take a picture of him.
When I am actually doing something novel with my phone, like, I don't know, actually talking on it, he gives me this ticked off expression on his face that's directed straight at me.
Obviously, he's basically saying, "What do you think you're doing? What are you doing talking on the phone? Hello, you're supposed to be taking a picture of me!"
He's such a diva.
It's a lose-lose situation I think. But I'm up to the challenge to catch some pics of that stinkin' cute face with my cell phone. So since Cooper must have his own paparazzi machine, it might as well be blinged out with one of these dachshund iPhone cases.
Buy a Dachshund iPhone X Case for under $25!
For those of you who are addicted to getting the latest Apple has to offer, and you love doxies, a Dachshund iPhone 6 case is for you. Most of these cases are available in X Plus or XS as well. I think these are a great find, as it's extremely hard to find iPhone X cases $25 and under, which makes these dachshund iphone cases pretty darn affordable.
Dachshund Funny Protective Slim Fit Hybrid Rubber Bumper Apple iPhone X case
Head Case Designs Dachshund Dog Breed Patterns 3 Hybrid Case for iPhone X/iPhone XS
Clear Transparent TPU Silicone Protector Case Cover Soft Gel Skin for iPhone X XS
Fun and Sassy Dachshund iPhone 8 Cases
I was surprised to find these dachshund iPhone 8 cases because I thought that most people jumped straight from a 7 to a X. Turns out that you really can buy everything on Amazon. They have affordable dachshund iPhone 8 cases!
Inspired Cases Low Rider – Dachshund Case – Apple iPhone 8
Sitting Dachshund Puppy Popular Dog Breeds Hard Back Case for Apple iPhone 8
For Apple (iPhone 8 Plus) Shockproof Impact Hard Soft Case Cover Dachshund Standing (Black)
Dachshund iPhone 7 Plus Cases for Doxie Lovers
Adding dachshund iPhone 7 Plus cases to a favorite phone is like icing on the cake. A lot of people find a phone they love, and they hang onto to it forever. The iPhone 7 Plus is my iPhone of choice because it's just the right size for me. It's Cooper's bling machine!
Phone Case Protectivedesign Cell Case Anatomy Of A Dachshund Slim Case for iPhone 7 Plus
Protective design Hard Back Case Dachshund On The Moon Tough Case for iPhone 7 Plus
Dachshund Protective Slim Hybrid Rubber Bumper Case for Apple iPhone 7 or iPhone 7 Plus
I've Created a Monster…But I'm Still Crazy About Him 🙂
I could never have any kind of blog or Instagram fan site dedicated to Cooper the dachshund.  A Crusoe the Celebrity Dachshund he will never be because when I am actually trying to take a candid picture of him being cute, he just ruins it because he is so obsessed with my dang phone. As a result, it can be near impossible to catch an adorable impromptu moment.
For instance, if he's out in the yard running around and doing something cute and I want to take a picture of him, I have to go all underground paparazzi, basically, to get a good pic of him.
Otherwise, I my picture turns out like this because he's seen the phone. Apparently it's not enough to photograph him in action. I guess he wants to help me and get a close up shot of his oh-so-handsome face.
But  I get a big picture of nothing because he's ran to my feet so I can photograph his best side up close and personal.
I try to look at the bright side, I'm getting some really cool shots of my backyard. With one of these blinged out dachshund iPhone cases.