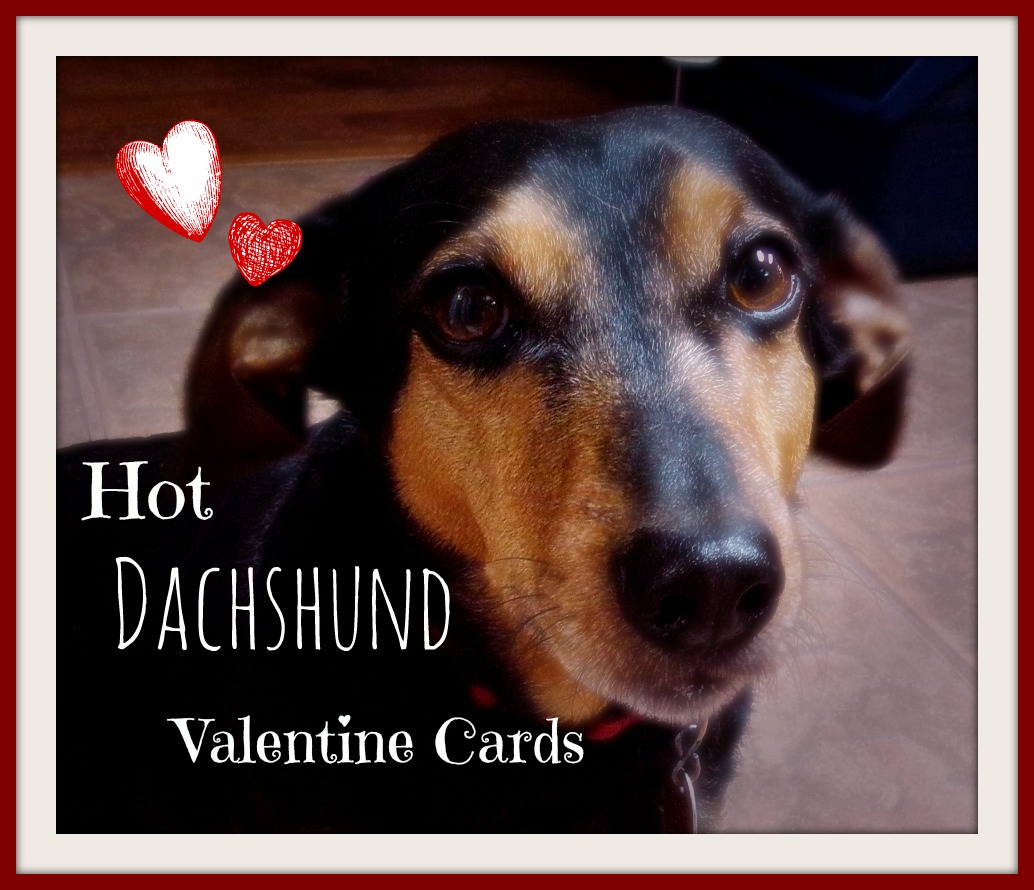 Dachshund Valentine Day Cards will Win your Valentine's Heart
I have two adorable little dachshunds that think they rule the house. Well, if I had to be honest, I'd have to agree with them. They pretty much do. But that doesn't make me biased when I say that dachshund Valentine Day cards are the best card a sweetheart could ever get. Your Valentine doesn't even have to own a doxie for them to bowl you over with kisses when they open their card from you.
Dachshunds are sweet, loving, and playful. Everything you want your Valentine to know that's what you think about them. And how could your Valentine resist a wiener dog card telling them Happy Valentine's Day? Give your sweetheart a dachshund Valentine card, pair it with a nice little gift, and there's no way you could mess things up and be in the doghouse.
Give a Miniature Dachshund Valentine Greeting Card to your Feisty Lover
Cooper is my mini dachshund. He may be small, but he's got a personality that's larger than life. He's feisty and sweet, a trait I think is common for mini Doxies. These Valentine cards capture that sweetness in an adorable way. But just under the surface I can tell they're all wanting to get into some major mischief.
If your Valentine is sweet, but you know what fire and mischievousness that have bubbling deep inside, then these dachshund Valentine Cards are a perfect fit. Your Valentine is sweet and sassy, just like an adorable mini doxie.
My favorite is the long haired dachshund dressed in heart printed PJ's. So stinkin' cute! Puppies for Valentine's Day? Yes, please!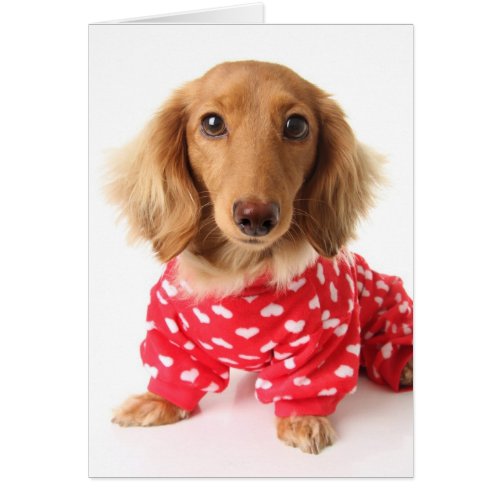 Dachshund Valentine's Outfit Greeting Card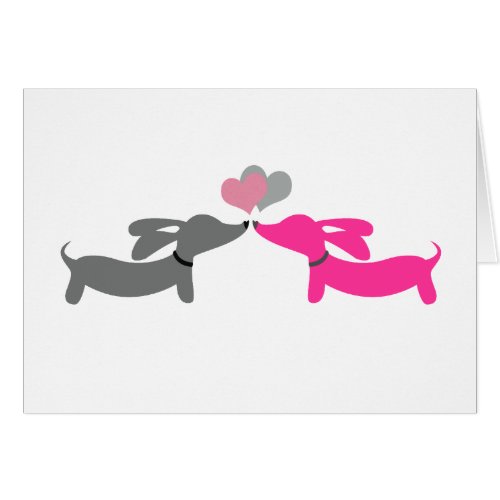 Dachshund Happy Valentine's Day Card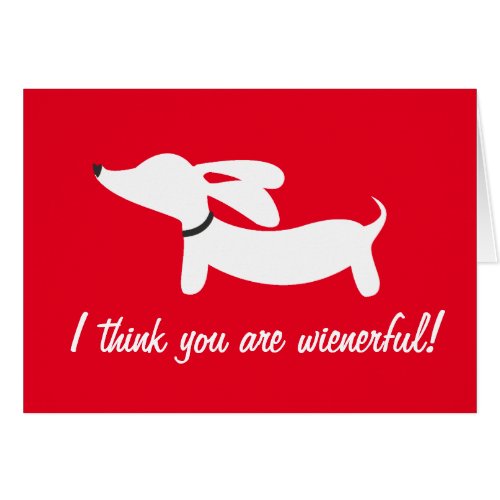 Dachshund Valentine's Day Greeting Card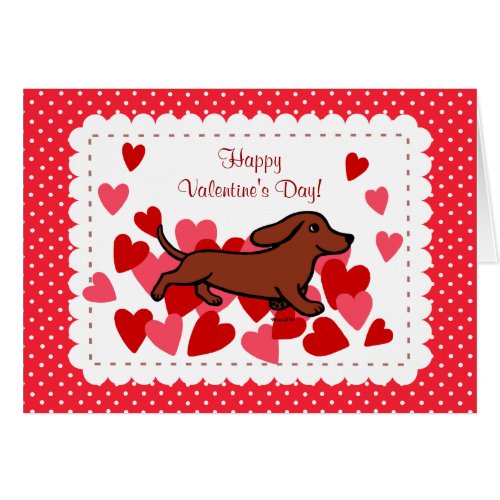 Dachshund Valentine Cartoon Greeting Card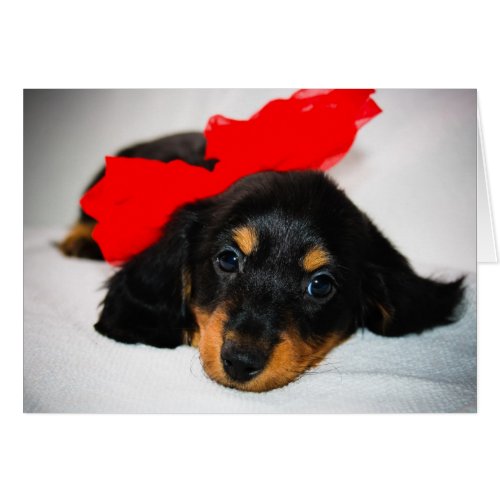 Be Mine-Dachshund puppy valentine's day card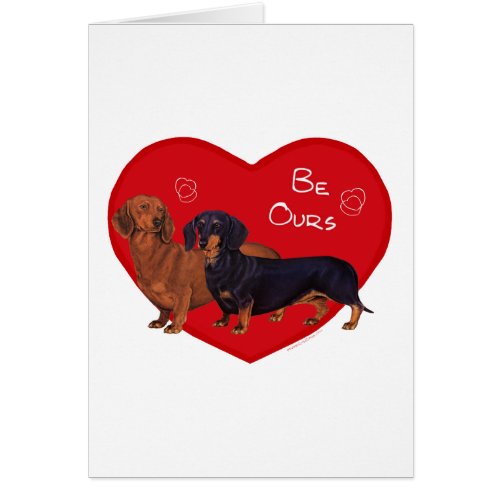 Dachshund Be Ours Valentine Greeting Card

&
Dachshund Valentine Day Cards Make the Best Valentines for Friends
A happy valentine dachshund card doesn't have to be just for your sweetheart. Doxie Valentine cards are great to give to your close friends and family, too. Just looking at wiener dogs bring a smile to anyone who sees them, but there's more to doxies that their sweet face and odd body shape.
Dachshunds are loyal without fault and very devoted to their family. Once a dachshund has claimed you, you are theirs for life. What better way to let a friend know how much you love and appreciate their friendship?
Long before I ever thought about being in a relationship, my older sister started giving me Valentines. Every year, without fail, I could count on a gift and card from her. I still have the cards she gave me. And wouldn't you know it, my favorite card is the one with a dachshund on it.
Pooches in Pink Valentines Day Stationery Note Card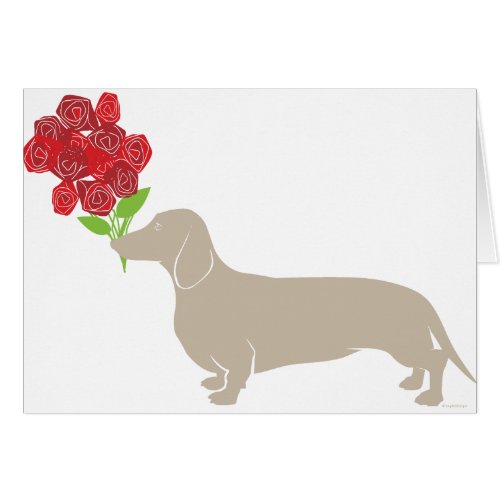 Doxie 12 Red Roses – Valentines Day! Card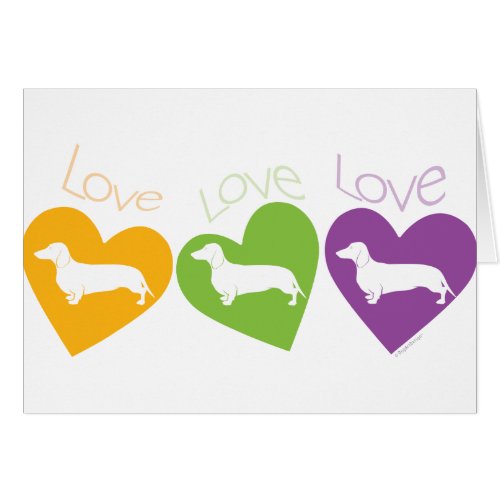 Love Dachshunds! Greeting Card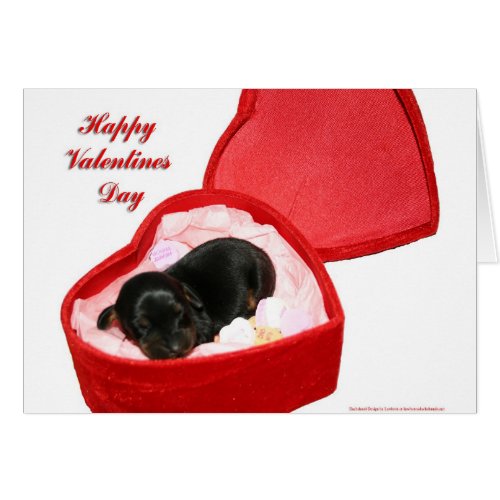 Valentines Day Doxie Greeting Card

Dachshund Puppy Love Greeting Card

&
Funny Dachshund Valentine Day Cards: No One can Resist a Wiener
I'm not really the sentimental, get all lovey dovey type when it comes to buying a card for someone I love. I'd rather make them laugh. I don't know, maybe I have issues that way. If you can make the one you love laugh while saying how much you love them, I think that's all the better.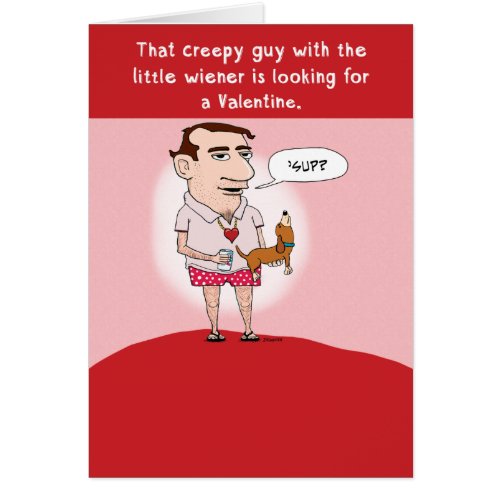 Funny Valentine's Day Card: Wiener Dog Guy Greeting Card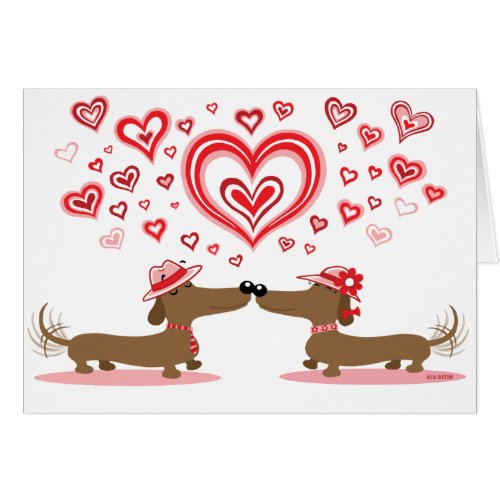 Valentine Dachshunds – Customized Greeting Card

Wiener Mom (Heart) Valentine Greeting Card

&
A wiener dog is a joke waiting to happen. A card with the phrase, "that creepy guy with the little wiener wants to be your Valentine" would make your Valentine run for the hills, but slap a cute picture of a doxie on there and you'll get a giggle.