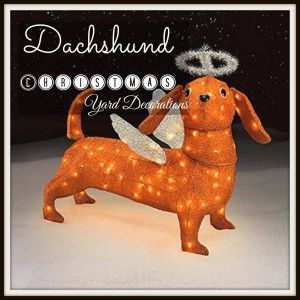 Dachshund owners are a loyal bunch. Once you have a dachshund, you never want another breed, truly. But it doesn't stop at just owning one as a pet. Soon, we want dachshunds decor in all aspects of our lives. Even when it comes to our front yards.  You know, like a 10 foot dachshund Christmas yard decoration.
I know the first year I had my standard dachshund Rambo, that year for Christmas I bought a black and tan dachshund ornament to match him. The next year, it blossomed into stockings. This year, I'm aiming for an outdoor dachshund Christmas decoration to bring a little doxie cheer to my front yard. You can never have enough dachshunds, right?
In a hurry? Here are this year's hottest dachshund Christmas yard decorations on Amazon.
Lighted Dachshund Christmas Decorations, Tan Please!
I'm not sure what it is about doxies. I don't know if it's because they're such an odd shape, or they're so small it makes you just melt. Whatever it is, they know how to work what they've got. Cooper, my youngest, is a ham.  He has to be the center of attention, which is why I think a lighted dachshund Christmas decoration channels the spitting incarnation of my furry little child.
I love the one on the right, the angel dachshund? Yeah, we all know that dachshunds are anything but angelic, but they think they are God's gift to humanity. The funny thing is – and, shhhh….don't tell them we know it – they're right.
Light-Up Holiday Dachshund Family, 2-Piece Set
Lighted Tinsel Dachshund Goggles Outdoor Christmas Decoration
Light Up Tinsel Dachshund Outdoor Christmas Decoration
te Lighted Dog Christmas Decorations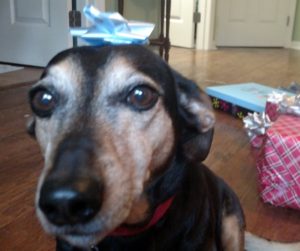 Rambo is an old Christmas veteran. I know he's a dog, but I think he knows when it's Christmastime. He even likes to open his own presents. As you can see, he makes it pretty difficult to even WRAP the presents. 🙂
If he sees these Christmas dog inflatables, I think he'll be concerned he's going to have to share his Christmas haul.
But these adorable lighted dog Christmas decorations are just what I need to doxie up my front yard this Christmas. Rambo and Cooper will be wondering what wiener army invaded their territory.
Holiday House Burlap Dachshund with Santa Suit and Hat
The Round Top Collection Christmas Dachshund (3 PCS) -Metal
The Incredible Inflatable Christmas Dachshund
The funny thing about dachshunds is that they're so small, but they have such big egos. Rambo thinks he could take on the biggest, baddest Doberman out there. I'm like, do you realize he could eat you? I just don't think they realize how small they really are.
Now my dachshunds can live vicariously through my air blown inflatable dachshund. I think it's the only way they can actually be bigger than…well..absolutely everything else. I'm pretty much convinced he'll think it can whoop one of these in a fight and win.
What's best about these yard decorations, is they are easy to put up and take down, unlike traditional Christmas lights. It's pretty much plug it in and – voila – you've got an instant dachshund Christmas yard decoration.
I can wait till I get my dachshund Christmas yard decoration put up in my yard. After all, nothing says Merry Christmas like a 10 foot lighted dog Christmas decoration in your front yard!